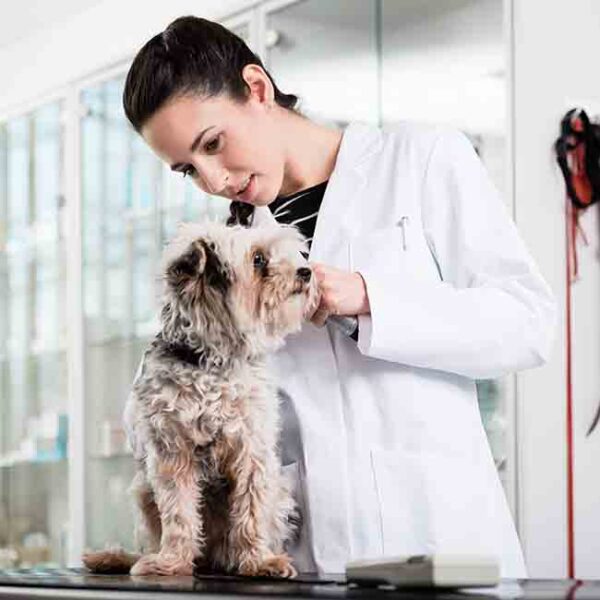 At Petland, the health and well-being of our pets is our primary focus and we are dedicated to providing our pets with quality, professional care.
Often times, our puppies have been seen by two to three independent veterinarians before being available in a Petland store. Every Petland store has a partnership with a local veterinarian.
Our consulting veterinarians conduct examinations of our new arrivals, provide regular preventative care and oversee the healthcare protocols for all of our "babies" while in our store. These veterinarians certify that Petland pets are healthy prior to being available to customers. Additionally, puppies receive a free follow-up visit to the vet with their new family.
When should my puppy see a vet?
When you are a first-time pet owner, it is always good to arrange your first vet visit very soon after going home. Be sure to have all your proper paperwork for your first visit.
Remember to ask any questions if you are not sure about anything. Visiting your vet should be a safe and pleasant place to visit so try and remain calm, or your pet could sense your reactions and emotions.
Our Vet
Petland Murfreesboro takes pride in the care of our pets. Please see our Veterinarian of choice below:
Animal Care Veterinary Hospital
Address:
2750 New Salem Road
Murfreesboro, TN 37128
Phone Number:
615-896-3434
Pet's Four Basic Needs
Petland is the retail pet industry leader in the area of animal care with ongoing staff training programs, in-store animal husbandry systems and community service programs aimed at placing homeless pets and curbing pet overpopulation in the community. The health and well-being of our pets comes first for all of us at Petland and it is our goal to share that knowledge with our customers so they can raise happy, healthy pets.
All pets have four basic needs that need to be met in order for them to be happy and healthy:
Behavioral
All pets have instinctual behaviors that are integral to their quality of life. Providing appropriate products and training will keep your pet's life enriched.
Environmental
Whether it's a birdcage, training crate or hamster den, providing the appropriate habitat and accessories (bowls, perches, bedding) for your type or breed of pet is essential to your pet's feeling of safety and well-being.
Maintenance
Taking care of the animal's grooming needs and keeping its environment clean and well-maintained is vital in preventing unwanted infections or disease.
Nutritional
All pets have different nutritional requirements and understanding basic nutrition needs supplemented with healthy snacks, treats and vitamins helps to ensure proper development and growth through all of their life stages.
"*" indicates required fields